Active Travel
At Brookfield Junior Academy we believe being active is extremely important for our physical and mental health. We encourage all our pupils to lead an active lifestyle including how they travel. We teach the children that switching more journeys to 'active travel' will improve their health and quality of life and also support the environment. These are 'win-wins' that will benefit individual people and the Swinton community as a whole.
Active Travel Achievements, Events and Initiatives
We are very proud to announce that Brookfield Junior Academy have achieved a Gold Award for Active Travel and South Yorkshire School of the year 2020-2021. We work very hard each year to maintain this status.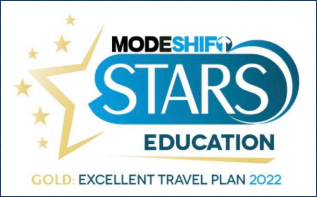 WOW – The WALK TO SCHOOL Challenge
At Brookfield all children in Years 1 to Year 6 take part in the WOW - walk to school challenge. Every morning the class teachers record how the pupils in their class travel to school on the WOW tracker. If the children travel to school in an active way e.g. walk, cycle, scoot at least once a week they can earn different WOW badges. The badges have been designed by pupils across the UK and are made from recycled yoghurt pots.
Dr Bike Day
To ensure our children can stay active and safe, Dom from Modeshift Stars visits the academy to help maintain the pupils bikes. He does a fantastic job at fixing any problems we have, and he is always very busy.
Educational Walks
Our pupils enjoy going for walks in the local area. This can include visiting Creighton Woods, the train station, the local high street, as well as exploring the large residential estate.
Y6 Crucial Crew
Each year, as part of preparing our Year 6 pupils for the next step in their education, they visit Crucial Crew. The pupils recap on road safety by acting out everyday situations such as using a zebra crossing and taking part in discussion including estimating how long it takes a car to stop when travelling at 30MPH.
Road Safety visit
Ellie visited Brookfield to teach our children about road safety.